Model
The MITA model is simple and effective: Stewardship is the key to island owners allowing Access, which is key to attracting Members. Members, in turn, volunteer and support the Stewardship which completes the circle, "SAM":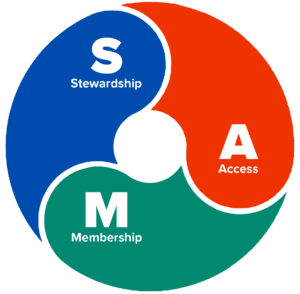 Here are the ways that MITA ensures that this model will continue to serve the organization, its members, and the islands:
Serve the members: As a membership organization, MITA's board, staff, and programming ultimately exist to serve its members.
Collaborate instead of compete: MITA has a unique mission and purpose in stewarding the Maine Island Trail, which is not a competitive endeavor by nature. We strive to partner with numerous businesses and other nonprofits on the Maine coast in order to expand the Trail, provide resources for the organization, and create unique opportunities for our members and partners.
Adhere to the Trail vision: The Maine Island Trail is for island enthusiasts and coastal recreators in all regions of the Maine coast. MITA is committed to the work it takes to maintain a comprehensive water trail that includes sites of wild character where owner preferences can be honored and stewardship requirements are within MITA's capabilities.
Earn trust through example: Handshake agreements, not legal relationships, are the key to the Trail's success. This tried-and-true approach allows landowners to experience being a part of the Maine Island Trail without being obligated for the long term. MITA maintains landowner trust year over year for each site on the Trail, which is a testament to the success of MITA's unique model.
Communicate guidelines and trust users to follow them: MITA conveys to its members the wishes of property owners on the Trail regarding the use of their property, but exercises no authority to enforce those wishes and thus has no grounds to declare them as "rules". Through member education and MITA's culture of responsibility, MITA members have generally proven to be conscientious stewards when visiting Trail sites.
Support access as an independent pursuit: While MITA may partner with guides or charter companies to provide unique experiences for members, MITA does not lead recreational outings on the Trail and will never act as a guide service that would be in competition for business.
Stay positive: There are many challenges that exist for coastal environments on the Maine coast, and MITA chooses to face these challenges with a positive outlook. MITA is fundamentally an optimistic organization that believes in the transformative power of recreating in nature and entrusts people to behave responsibly. We aspire to have this positive attitude permeate everything we do.