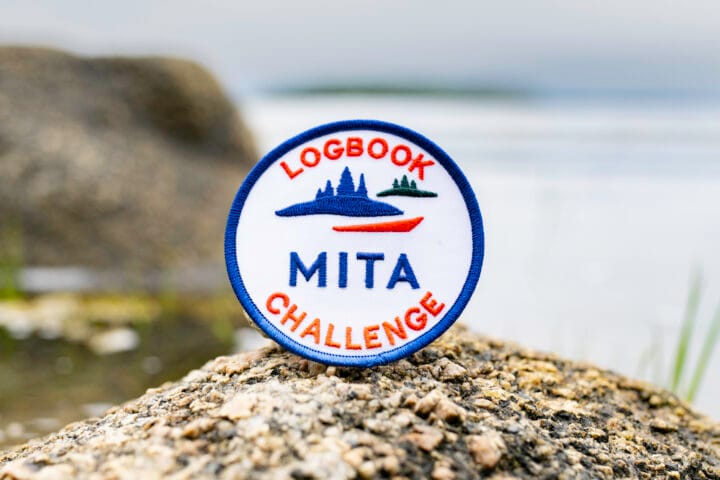 Welcome to The Logbook Challenge!
Simple objective. Epic adventure.
Of the 258 sites on the Maine Island Trail for 2023, slightly over half have logbooks that have been placed on them by MITA. These logbooks provide MITA and property owners with valuable data on visitation, but they also offer an outlet for visitors to leave their mark. Stories, poems, jokes, drawings—we see it all in the logbooks, and we appreciate every single entry. Each year, we collect hundreds of entries that all tell the story of a summer well spent. This year, the logbooks will be at the center of the most exciting season-long competition in MITA history. We present to you: The Logbook Challenge!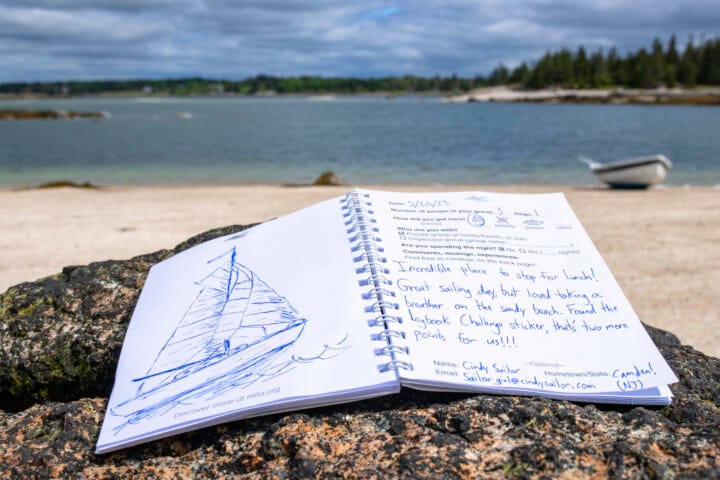 Here's how to play:
As you explore the Maine Island Trail this summer, keep an eye out for MITA logbooks! You'll find them inside of distinctive plastic containers with red lids, often hanging by a string from information signs at various Trail sites.
Once you find a logbook, make an entry. Take a photo of your entry (any photo will do, they don't need to be beautiful!), and send it to nick@mita.org once you have the ability to do so. Please indicate which Trail site you were at when you made your entry. Once you make your submission, then you're officially a contestant in The Logbook Challenge. Just for participating, we'll send you a special MITA Logbook Challenge embroidered patch! Send us your mailing address with your submission, and we'll send you your patch to commemorate your adventure.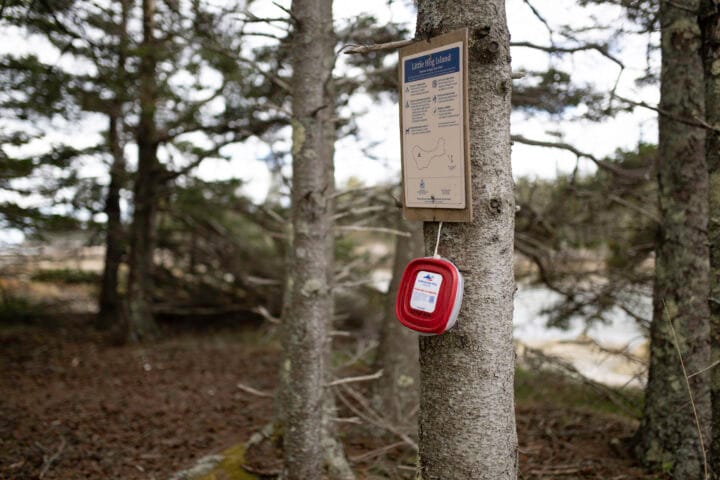 We could just say that whoever submits the most logbook entries wins, but we wanted to add a bit more excitement to the scoring system… so here's the full breakdown of how you acquire points in The Logbook Challenge:
One (1) point for every entry that you make in a MITA logbook and submit to nick@mita.org
One (1) point for a drawing or sketch in your logbook entry
Two (2) points per region of the Trail* visited if you submit entries from more than one region. Each site's region can be found in the Maine Island Trail Guide and the MITA App
Two (2) points for each Challenge Sticker discovered
What's a Challenge Sticker?
Certain random logbook containers will have ocean-themed stickers placed in them. Some will be placed on busy sites, and some will be on very remote ones. We'll be placing them throughout the summer, so if you see one, please let us know when you submit an entry! Below is an example of what to look for: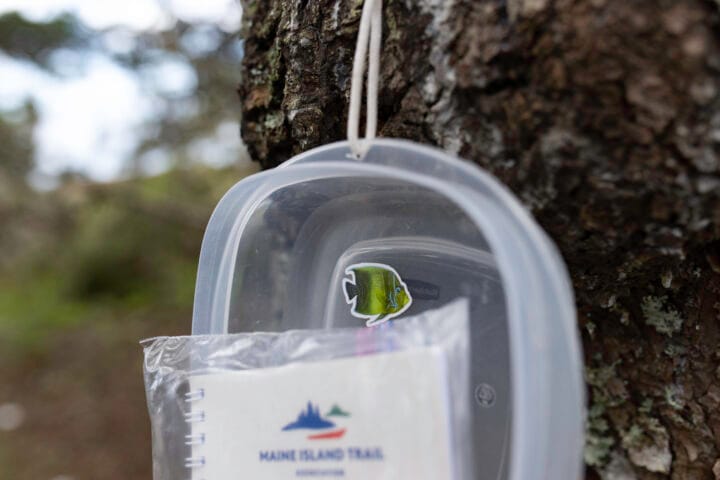 Timeframe and prizes:
The Logbook Challenge begins as soon as you read this and make a plan to visit a site on the Maine Island Trail! All submissions must be sent to nick@mita.org by Friday, September 15 at noon.
An art print jacket from FLYN
A weekend skills workshop from Portland Paddle
Goodies from Rising Tide Brewing, brewers of Maine Island Trail Ale
A medium tote and wristlet with a nautical chart print from Sea Bags
A one-year Sea Tow membership
A WharfWarp doormat made of upcycled fishing rope
Gift certificates to Wild Oats Bakery in Brunswick
So, that's the challenge. Get planning, and good luck!
Of course, the most important part of The Logbook Challenge is that you compete safely. Make informed decisions, always, when you travel on the Maine Island Trail. We encourage you to compete in groups! If multiple members of your group want points as Logbook Challenge participants, just include their names in your submission and they'll be added to the score sheet.
Before you ask—no, we don't publish a list of which sites have logbooks. Finding them yourself is part of the challenge! Here's a hint, though: the Maine Island Trail Guide has a lot of great logbook quotes inside, and we do indicate which sites those came from. Keep an eye on our Instagram and Facebook content for more hints, too… there will definitely be some!
*The 10 regions of the Maine Island Trail are Southern Coast, Casco Bay, Western Rivers, Muscongus Bay, Penobscot Bay, Deer Isle, Mount Desert, Downeast, Bold Coast, and Cobscook Bay.